Process
Custom-Made Wall Panels in Detroit, MI
How We Bid Wall Panels
Wall Panel bids are determined based on the lineal footage of the wall and the wall type or types in the project. The process is simple:
Builder/Lumberyard provides a blueprint
We determine lineal footage of walls
We determine wall type(s)
We quote the net price for the project
The bidding process typically takes 3 days from the date that the prints are received by Integrity. A typical wall panel bid will include exterior and interior panels to a standard horizontal plate height.
All blocking and double top plates are installed by the field carpenter. Integrity wall panels are sold exclusively through qualified lumber suppliers.
Note: Integrity will supply all LVL material used in the wall panels for all jobs. This will allow us to effectively eliminate all LVL size issues in the building process.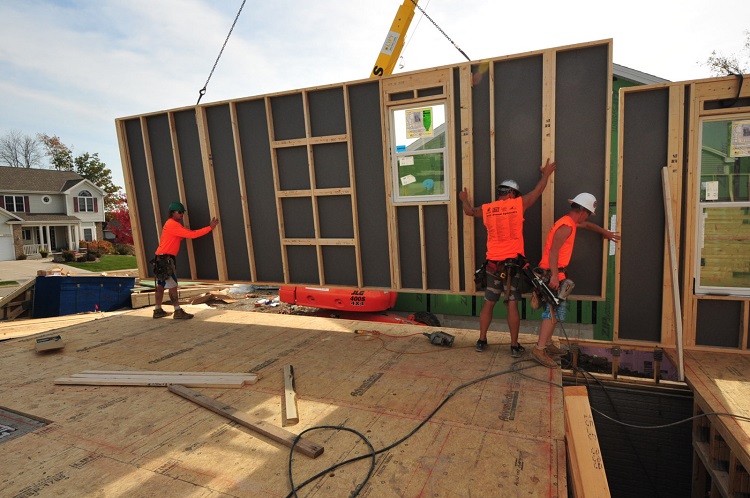 Ordering Wall Panels
All Integrity wall panel orders are guaranteed to be on site 16 business days from the date of order and completion of the design phase:
The final set of prints
The window and door rough opening schedule
Truss drawings or confirmation that Integrity can design from blueprint specification
The Design Process
After Integrity has the blueprints, the rough opening schedule, and the truss drawings, we will begin to design the panels. Throughout the process, our designer will provide you with a list of builder "preference" questions ensuring that the correct product gets to the job site. The designer will also be in constant contact with the site supervisor and carpenter to ensure clear communication and proper delivery schedules.
Material Lists
Once a PO is received and the building is designed, a guaranteed materials list will be sent to the proper person at your lumberyard.
Your Materials At the Yard
You can reduce handling costs by keeping a small lumber inventory in our yard. We can also receive material through job packages individually built for a specific project.
Repetitive Jobs Equal Shorter Lead Time
Those jobs that are truly repetitive can be built and delivered in a much shorter time frame. These schedules will be discussed on a job-by-job basis.
Field Support
The designer that is assigned to your project will be your point of contact for the duration of the project. They will be available to participate in meetings and all other ongoing communication between all parties. The designer will be available to modify any items that have arisen during the building process.
The Integrity Pledge
Integrity is committed to providing its customers with superior and cost-effective products. Whether you are building a single-family home or 80 condominiums, Integrity will be responsive to your job and your needs. Our designers will become an extension of your operation, providing you with an accurate and consistent flow of communication every step of the way.
Our expectations of you
There are several things that we will need from you in order to operate efficiently and effectively. These include:
The receipt of key elements of design as described on the previous page?
The materials for each job shipped exactly per the list to our yard within 48 hours after receipt of the material list
Accurate shipping information